Become a successful tax professional
Over 40,000 trained tax preparers since 1952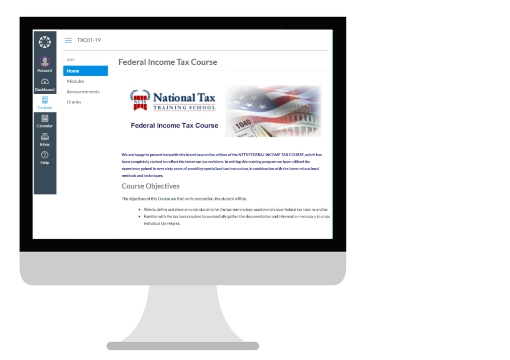 Online Tax Courses
The ONLY Tax Courses You Need
Over 40,000 trained preparers since 1952
Proven teaching methods
Highly skilled support staff
Teaching taxation since 1952
Personalized instruction
Licensed and accredited
Certification in as little as eight weeks
68 years.
40,000 students.
Only school of its kind!

National Tax Training School is the:

Oldest and foremost specialized distance education tax school.
Only nationally accredited distance education tax school in the U.S.
Start your great new career today! Become a trained Federal income tax preparer in as little as 8 weeks with our highly effective, nationally-accredited, web-based income tax preparer courses.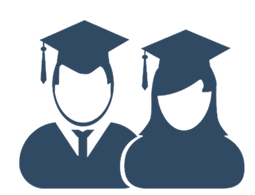 The only nationally accredited distance education tax preparer training school.
Start your great new career today! Become a trained Federal income tax preparer in as little as 8 weeks with our highly effective, nationally-accredited, web-based income tax preparer courses.
Which Course Should I Take?
Next Step:
Advanced tax preparation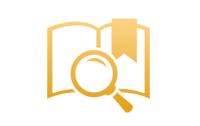 Advanced Federal Income Tax Course
For All Registered Tax Preparers: Stay Up to Date!

Student Case Studies
As an actor in the Twin Cities, Alan Holasek was tired of balancing a demanding day job with his passion for acting. Looking for something to supplement his income with, he noticed that every April actors were asking around for a place to have their taxes prepared. The only place in town that advertised tax preparation for actors was completely booked up, leaving most actors no choice but to use a service unfamiliar with their needs. 
At that point, Alan realized that he had stumbled onto something. He decided to start a tax preparation business.
Alan went online and began researching the available options. He compared rankings, pricing, and course selections. Then he discovered National Tax Training School. Their program checked all of his boxes. They'd been around for a long time, their pricing was competitive, and their courses covered all essential topics. Once Alan began the course, he was hooked. He found that the information was clear and well-organized, and the teachers were knowledgeable, quickly getting back to him with the answers to his questions.

 In 2017, Alan opened Green Room Tax Service, a tax preparation business focused on the needs of actors and other entertainment professionals. In his first tax season, Alan easily got eight clients and not only covered his initial costs but came out with a profit. The next year, he more than doubled his client base and his revenue.
In 2004, Rebecca Heid's company restructured, and her management position at a top Swiss company was made redundant. As an American expat married to a Swiss man, she began looking into other opportunities that would allow them to stay in Switzerland. With an MBA in chemical engineering, the job field was open to her… until she realized that she was expecting a baby. At that point, she decided to shift gears. She started to look into fields that would allow her self-employment and a flexible schedule, top priorities for a new mother. Knowing what a hard time she had each year finding someone in Switzerland who could file her American taxes, she decided to look into tax preparation. During an online search, she came across National Tax Training School and was impressed with the foundation they offered. She enrolled in the course and completed her training a few short weeks before her baby was born in January–just in time for her to throw herself into her first tax season. A year later, with that first tax season behind her, she took the advanced course, and shortly after became a licensed enrolled agent. Rebecca focused on her niche market: American expats living in Europe. At first, she offered home visits, but as the business grew through the referrals of happy clients, she found herself busier and busier. In 2010, Rebecca moved her firm, American Income Tax, out of her home office and into a proper space of its own. She also hired additional staff. While some came with a background in taxation, others did not, and Rebecca enrolled them in National Tax Training School. 

  Today, Rebecca has nine employees, and her firm is generating a million dollars in revenue each year. While her business files American returns, they have formed partnerships with Swiss and other European tax firms.